Welcome back to Challengeville. For those of you who have been following along from the start, I apologize for the long break in updates here. This round took me far longer to play than I'd thought it would, largely due to time constraints on how much I was able to play Sims 2 during the last few months. That, and University just takes forever when you're running this many sims through, but I probably don't need to tell some of you that. I can't even begin to imagine how those of you who've run 50-70 or more through at a time managed it without going totally insane. But, I did finish it at long last, though honestly the last few semesters for most of them were very rushed, and I admittedly was cheating heavily with grades and semester timers to get them all done and graduated as my patience for playing University was wearing very thin by then..lol. And after all that time spent playing, This isn't going to be much more than a bare-bones facts update about them all, with a few anecdotes thrown in here and there for those that actually managed to do something interesting while at Uni. I'm not presenting them in the order I played them, but in the order that I think will make the most sense for telling the whole story. And so, without further ado, I'll introduce you to the first house.


Allegra Gorey
Knowledge/Popularity
Become Hand of Poseidon
Pisces; 5 Neat, 2 Outgoing, 9 Active, 2 Playful, 7 Nice
Red Hair, Custom Hair ; Unemployed
Hobby: Fitness
Major: Biology – Graduated 3.8
Achievements: Secret Society, BSOC, Greek House (Freshman House)
Allegra is a first semester freshman when you first load this lot. I can't remember if she already had the Biology major or if I changed it to better suit her LTW. Her secondary aspiration, and that of all of the others in this update, was rolled for, using the standard prosperity chart. Besides the achievements listed above, she also managed to max her Fitness enthusiasm and get her plaque for that. She might also have gotten the plaque for Arts & Crafts from spending a lot of time painting in her later semesters, but I don't remember if she got that far with it or not. As with all of the others except the Tri-Var girls, I used ACR to randomly determine gender preferences, and it decided that Allegra likes women. I made a few attempts to find her a future partner while she was in university, and came up with one possibility for her. She met her through a gypsy date, which turned out to be only an OK date, but afterwards they decided they were more into each other than they first thought they were.
I haven't yet decided if I'll pair them up or not. I may just have Allegra stay single, and either remain childless, adopt, or boolprop her an "in vitro" baby with someone. She did eventually graduate, and moved out into an apartment in town.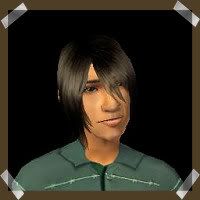 Martin Ruben
Knowledge/Pleasure
Max out 7 Skills
Capricorn ; 8 Nice, 3 Outgoing, 2 Active, 5 Playful, 7 Nice
Black Hair, Athletic ; Swim Wear
Hobby: Cuisine
Major: Mathematics – Graduated 3.9
Achievements: Secret Society, BSOC, Greek House (Freshman House)
Martin is also a first semester freshman when you load the lot. And overall he did very little of interest through most of his college career, except skill. He didn't make it to fulfilling his LTW yet, but he made a very good start on it with at least 4, possibly 5, of his skills maxed out. On the romance front, he and Jane did have a thing going between them for the first several semesters of play, and I'd been intending to pair them up together after college, but then about halfway through her final semester (his 2nd sophomore semester), he met Suzie Santander, one of the cheerleaders, who is a 3-bolt match for him. I decided the 3-bolt match should take precedence, and so dropped my plans for him and Jane. There wasn't any actual breakup in-game between them, but she did graduate shortly thereafter, which largely ended their affair. Once he'd graduated, he moved out to an apartment, invited Suzie over, then asked her to move in with him, which prompted her to graduate and grow up without my ever having had to play her. Here are their graduation/growing up pics.
I'm a bit leery of how this household will go, because previous experience with playing a cheerleader that was made playable and grew up showed me that they never stop being cheerleaders. And it gets most annoying. We shall see though...hopefully one of the hacks I have from MATY will prevent that.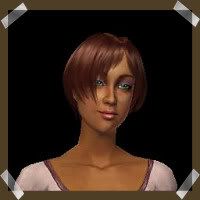 Jane Stacks
Family/Fortune
Raise 20 Puppies or Kittens
Cancer ; 7 Neat, 2 Outgoing, 7 Active, 3 Playful, 6 Nice
Unemployed, Mechanical ; Cologne
Hobby: Tinkering
Major: Physics – Graduated 3.7
Achievements: Secret Society, BSOC
Jane starts out as a first semester Junior. And though it was very tempting to change her annoying LTW, I decided I'd leave it and give it a go. Being unsure about how having pets at university would work, however, she didn't start work on it until after she graduated. Overall Jane was fairly unremarkable in college. As noted above, she had a thing going with Martin for most of her time there, but then halfway through her last semester he met someone else, and that left her without a prospective mate going into her adulthood. She is the only one of the three of them that didn't get the Greek House achievement, because it wasn't until after she'd graduated that I decided to have Allegra and Martin join the Freshman Houeshold's Greek House. Here is her graduation picture - and no, I don't know what's up with the medieval gown.
Jane moved into an apartment, and in order to preserve the age gap between her and the others, I did play her there for 4 sim days, the equivalent (in my mind at least) of the 4 semesters the other two had left to go. The story of her first few days of adulthood actually turned out fairly interesting, so I've made a separate post about it to give it the space it deserves. You can read about it
here
.
Before we move on here, I'll show you one last shot...a composite shot of their various Secret Society abductions. Sorry it's so dark, but it's hard to get good shots of something that only happens at night.
That's about all I have for general pics from this lot. They were a pretty boring routine of skilling and studying for the most part.