The Rhodes are basically a new family to Challengeville in so far as I hadn't really played them yet in this neighborhood, though I did post a short introduction to them along with a few pics of when I actually did their challenge here. As a refresher, here's the members of the household, shown here with pictures extracted with SimPE before I gave them all makeovers.


----------------------------------------------------------
Life had fallen into a routine for the Rhodes family. Sunny and Rainee, though seemingly happy and content with their lives, often wondered why had gotten married since neither felt any particular attraction to the other. But they both very much wanted a family, so once Dusty had arrived, they'd settled into being parents and pursuing their careers, and hadn't really given their marriage much more thought. They would eat dinner as a family when they could, but it was often a quiet affair, with one or the other of them talking with Dusty but not much with each other.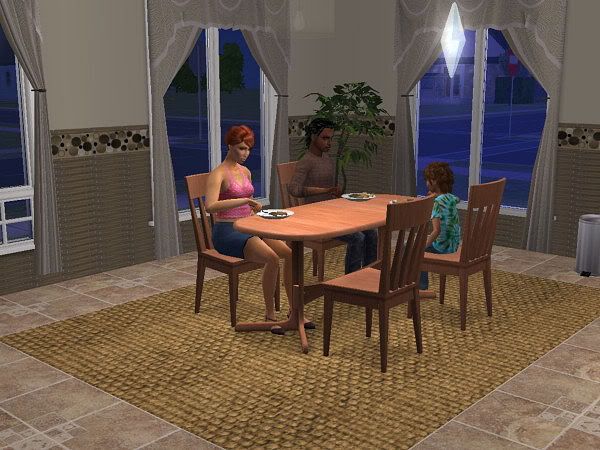 Woody had recently decided to leave his career in business to pursue his dream of teaching, and eventually becoming the Minister of Education. He wanted to be close to his son, so when Dusty started elementary school, he took time out in the evening to help him with his homework.
And the help was paying off, for Dusty started getting good grades almost right away. As a reward, his parents let him get a womrat, and as he put the little creature in it's cage the first time, he discovered that he was really interested in Nature.
Playing with Pooky, the name he'd given his womrat, made him happy, though it quickly became apparent he wouldn't be able to keep the cage in his room since the sound of Pooky running on his wheel would keep Dusty awake at night.
Meanwhile, Rainee had been working hard at her security guard job, and finally earned a promotion and the chance to attend the Police Academy. She was excited, for it brought her one step closer to her dream of becoming Captain Hero.
Despite their occassional daytime troubles, in the bedroom things had still been going fine between Sunny and Rainee, and shortly after coming home with her promotion, Rainee discovered that she was pregnant again. She was somewhat disappointed that she wouldn't be able to start at the Academy right away now, but happy about having another child.
Sunny had also been working hard after making the change to the Education field, and quickly began earning promotions as well.