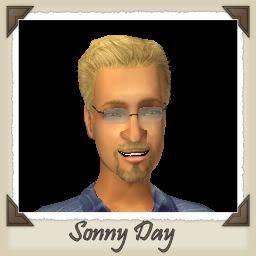 Sonny Day is the target sim for the TSR Introduction Challenge. I did this challenge several months ago in a different neighborhood, but decided to put him in the new neighborhood along with a few of the families from other TSR challenges I'd already done. When you download his lot, he's an elder, and the challenge is designed around that somewhat, but since I wasn't going to be doing his challenge again, I decided to age him down to adult so I'd have more time to play with him.

His stats are:
Aspiration: Fortune
LTW: Own 5 Top-Level Businesses
Zodiac: Aries
Hobby: Unknown
Turn Ons: Formal Wear, Great Cook
Turn Off: Hats
Personality: 5 Neat, 8 Outgoing, 6 Active, 3 Playful, 3 Nice
Badges: None

I have played his lot a little bit in this 'hood, but only for about a sim week or so before I decided to move on to other families, so there isn't really much to tell about him at this point. Stay tuned for updates on his life at some point in the future.